Exactly 100 years ago today the hull of the second Olympic class vessel to be built on Queen's Island in Belfast loomed large under its
Arrol Gantries
and over the former Lord Mayor of Belfast William Pirrie, Chairman of Harland and Wolff. He gave the order from the head of the slipway, "
Release the triggers
"and 62 seconds later the 882ft length of the RMS Titanic's hull, without her upper decks, funnels and engines on board had slid into the water of the River Lagan. Titanic was first afloat and apart from a few short weeks in dry dock in early 1912, she was to be afloat for less than a year when she sank on 15 April 1912.
Titanic hitting the water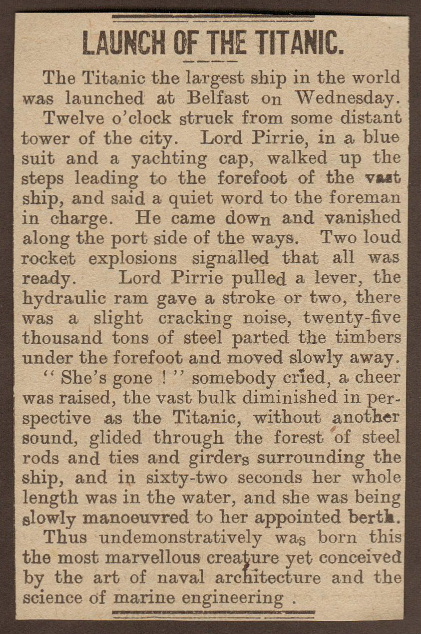 Cornishman and Cornish Telegraph report of the launch
I had the good fortune to be on the
Titanic Walking Tour
last Friday when the BBC's Mark Simpson joined us on the slipway to record some coverage to mark today's centenary, you may have seen it and me on the BBC earlier. Seen to the left interviewing our guide Rev. Chris Bennett. Yeah, it seems that even when I am having a fun day off with the family I can't help but run into a TV crew. Has it really been 3 weeks since I last appeared on screen, when this camera crew turned up.
Anyway if you are in Belfast or ever get a chance to visit Belfast I would highly recommend taking the walking tour. Try and do it before they redevelop the slip way pictured below when they will lay out the footprints of the Olympic and Titanic to give visitors an idea of the layout and scale, as well as unearthing more of the industrial archaeology of what was the Harland and Wolff car park for many years when we in Belfast were ashamed of the worlds largest yet most ill fated liner.
In fact I would also recommend a second visit after 2nd April 2012 when the new Titanic Museum is opened to the public. Here are some of the pictures I took of that new structure last Friday.
From inside the drawing office
The south corner
With the Odyssey and head of Titanic's slipway