Insignia of a Knight of St. Patrick
Her Majesty Queen Elizabeth II is the first monarch in 100 years to visit the the national capital of Ireland. Her Grandfather George V was last to do so in 1911.
In honour of the occassion here is the official anthem for the sovereign in the language of this part of her former dominions.
Dia a shábháil ar ár n-Banríon thiarcais,
Fada beo ár n-uasal na Banríona,
Sábhála Dia an Bhanríon:
Seol a bua,
Sásta agus glórmhar,
Fada chun réimeas os cionn linn:
Dia an Bhanríon shábháil.
A Thiarna, ár nDia,chun cinn,
Scaip a naimhde,
Agus a dhéanamh orthu titim.
Sean gcuid polaitíochta,
Sáraigh a cleasanna knavish,
Ar Riot ár súil againn a shocrú,
Sábhála Dia linn go léir.
Mo bronntanais Muighinis sa siopa,
Ar a bheith sásta go Doirt;
Fada féadfaidh sí rialaigh:
D'fhéadfadh sí a chosaint ár ndlíthe,
Agus riamh a thabhairt dúinn faoi deara
A chanadh le croí agus guth
Sábhála Dia an Bhanríon
So as the title of this blogpost says Your Majesty welcome to Ireland.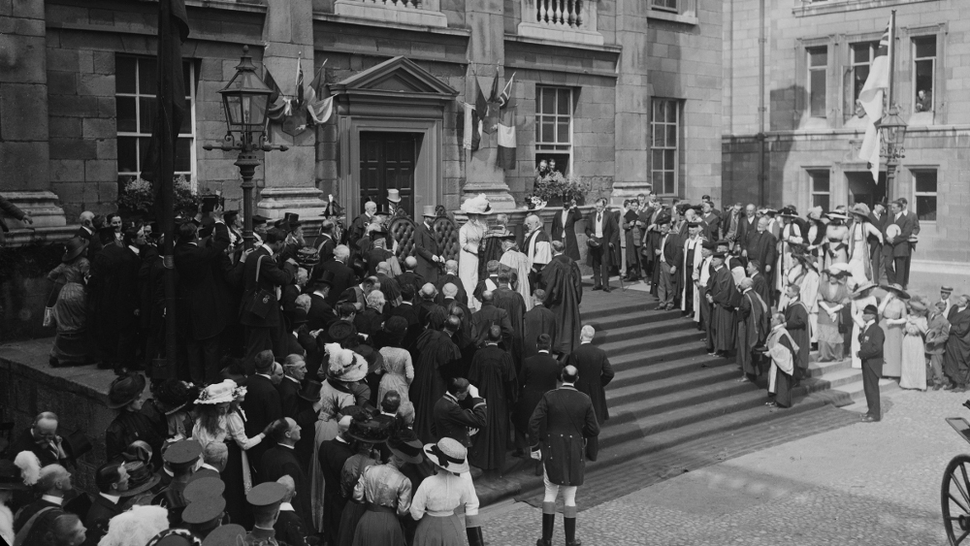 George V and Queen Mary during last visit in 1911