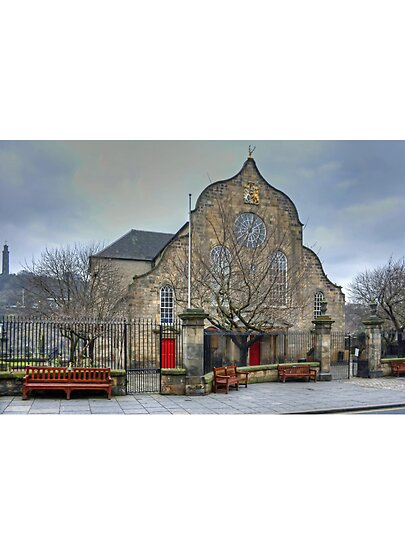 It is not the grandest church on the Royal Mile that would be the Catherdral of
St. Giles High Kirk
, which contains the Thistle Chapel, on up the hill. Nor is it the Kirk associated with Royal occassions; the ruined
Holyrood Abbey
at the foot of the Mile has seen Royal Weddings including those of James II, III, and IV of Scotland the latter to Margaret Tudor the sister of Henry VIII of England. Nor is the oldest that being
St. Margaret's Chapel
at the Castle.
But the
Kirk of the Canongate
(pictured) is the parish Kirk not only of the Scottish Parliament across the street but of the Palace of Holyrood (as well as the odd detachment of the Parish of Edinburgh Castle itself). Indeed it is just below the Canongate Tolbooth which marks the entrance to the Old City proper, being part of the separate Canongate Burgh until 1856 until it was absorbed into Edinburgh. The graveyard provides the resting place of economist Adam Smith and poet Robert Fergusson (whose statue is on the pavement outside).
Today it sees the wedding of the eldest Granddaughter of one of its parishioners, and will have to fly the Soveriegn's standard during the service. Because this is the church in which Zara Phillips will be marrying Mike Tindall. Up the Hill tourists and locals will be queueing for
Fringe
tickets which gets underway next week. Or enjoying the historic old town. So with her family including her Grandmother HM Queen Elizabeth II and Grandfather the Duke of the City she is getting married in two sporting worlds Rugby and Equestrianism will come together, her mother being the common link as Patron of the Scottish Rugby Football Union as well as a former world class Three Day Eventer.
But as my title says in Gaelic (that is the Scots variety) Congratulations to teh Bride and Groom, it is their .