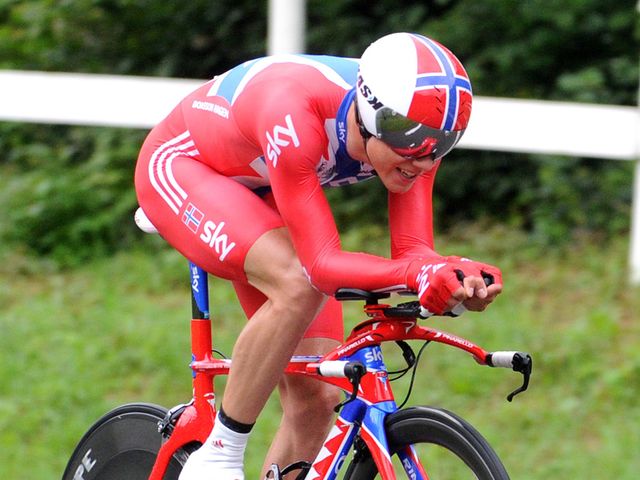 Edvald Boassen Hagen
The Norwegians have had a good Tour de France between them their two riders have one four times as many stages as the French and equal the number of the Isle of Man.
Their fans have been vocal and visual on every stage of the Tour, flying the Norweigian flag on the plains, in the Mountains, in the towns.
Both their riders are supposedly sprinters yet both Thor Hushovd and Edvald Boassen Hagen have won in the mountains. Hushovd in the high mountains on the road to Pau and again on the run in to Gap, Boassen Hagen on the first day of the Alps into Pinerolo. Boassen Hagen also won on the flat on the way into Lisieux.
Thor "God of Thunder" Hushovd
However, they plus all of the Norwegian fans will be hearing of the sad news back home in Norway. People all across the World have been updating their avatars on Facebook and Twitter with the flag of Norway.
Tomorrow being a time trial stage in the Tour means there will be no group start where a ceremonial commemoration of the dead in Norway could take part. Yet these two Norwegians will do their bit. Young Edvald will don the flag in the form of the jersey as the national time trial champion. Thor will not be wearing the rainbow rings of world champion again until Sunday as he is Road Race Champion of the World, a jersey he won in the national colours as pictured.
I'd like the organisers to give him dispensation to wear it tomorrow to show the World cares for Norway, let's have two world jerseys in the start hut.
My thoughts and prayers go to every Norwegian whether back home or following the Tour or anywhere else in the world. Especially any of those who have lost a loved one or friend.