On 23 November 1890 Netherlands last work up being reigned by a King, since then there have been a succession of Queens. However, there are rumours that the announcement due from the House of Orange at 18:00 GMT is that Queen Beatriz will abdicate as her mother and grandmother did in favour of her heir apparant, who for the first time in over a century is male.
Update
in her speech on Dutch Television it has been confirmed that this will happen on 30th April.
Our own Queen Victoria was on the throne when a 10 year old Wilhelmina learnt of the death of her father William III. He had been 68 when his only surviving child was born William the eldest of three sons by a first wife had died the year before the birth, Maurice had died age 7 some 30 years before and Alexander who had become Heir Apparent when his brother died passed away when his half-sister was 4.
She was also born third in line behind the King's brother Prince Frederick but he too died just after she turned 1. When her father died her mother Emma of Waldeck and Pyrmont served as her Regent until she came of age to rule in her own right.
In 1895 the longest reigning monarch of the United Kingdom Queen Victoria met the women who would become the longest reigning monarch of Netherlands. The elder Queen said of the younger:
"The young Queen ... still has her hair hanging loose. She is slender and graceful, and makes an impression as a very intelligent and very cute girl. She speaks good English and knows how to behave with charming manners"
She married in 1901 Prince Henry of Mecklenburg-Schwerin and she was soon pregnant but miscarried, before giving birth nine months later to a still born son, another miscarriage followed in 1906. However, high in the line of succession was a cousin whose mother had married into a German royal family giving her a Germanic title, which was causing the Dutch aristocracy some concerns until in 1909 she gave birth to a child, Juliana. She was to reign through both World Wars, in the first being neutral though part of the Allies blockade of German ports. There was also some civil unrest at the end of the war sparked by the Bolshevik revolution in Russia. However, her own popularity helped to restore stability.
In 1940 when the Germans invaded she was determined to remain in her country, but was persuaded to take exile and fled to the UK. She called Hitler the Arch-Enemy of mankind and broadcast messages to her people over Radio Orange. She visited troops in southern Netherlands in March 1945, before the end of the War, and after the official end decided not to return to her Palace but to a Mansion in the Hague.
In late 1947 poor health caused her to temporarily cede the throne to her daughter Juliana, she wanted then to abdicate permanently, her daughter urged her to try to reign for 60 years like the Queen she had met in 1895. She tried but again ceded the throne in 1948 but on 4 September she formally abdicated after 57 years and 256 days on the throne. She lived on in retirement to 1962.
Queen Juliana
Juliana was 39 when she succeeded her mother. She had married a German Prince Bernhard of Lippe-Biesterfield in 1937. At the time of her marriage as with her birth there was increasing militarism of the German state over the border. On 31 January 1938 she gave birth to Beatrix, in August 1939 a second daughter Irene was born. On 12 May 1940 during the invasion of the Netherlands she was taken to the UK, the day before her mother was persuaded to also follow, but after a month she decided to take her young family to Canada where they stayed throughout the war. In January 1943 her rooms in the Ottowa Civic Hospital were declared extraterritorial and exclusively Dutch so that her third daughter Margriet could be bron with sole nationality and remain eligible for succession. She set sail for Scotland in June 1945 after making donations of tulip bulbs to the city of Ottowa and its hospital, but listed her last permanent address on the passenger manifest as London England.
Upon her return to Netherlands the princess became pregant once more, but during the pregnancy caught German measles so when the child a fourth daughter Christina was born she had cataracts in both eyes, almost totally blind in one eye and severely damaged in the other.
When she took to the throne she was often seen dressed in ordinary clothes and riding her bicycle. After the 31 January 1953 when there were 30 breaches in Dunes and Dykes the Queen put on an old overcoats and boots and waded to devastated areas to help hand out aid. In 1964 her second daughter had without consent converted to Catholicism and married a Spanish Prince, some saw her as losing control and calls started for her abdication.
Queen Beatrix
But this was nothing compared to the constitutional crisis that she face the following year where her eldest daughter announced her engagement to Claus von Amsberg a German diplomat who had been part of the Hitler Youth and the Nazi Wehrmacht. There were no calls for her abdication as then the reason for the public anger would end up on the throne. But the Queen's personal popularity soon overcame the nation's unrest.
Thus it was that she was able on her 71st birthday on 30 April 1980 hand over the throne to her daughter Beatrix. The day is celebrated as Koninginnedag, Queen's Day, ever since.
Beatrix went to public primary and secondary schools in Canada and the Netherlands before going on to Leiden University, from where she graduated in 1961 with a law degree. On Koninginnedag 2009 she faced an assassination attempt when a man drove his car into a parade towards a bus carrying the Queen and members of the Royal Family. Five members of the crowd died instantly at the scene, two more and the assailant Karst Tates died later that day and another of the injured passed away within the week.
The announcement that the will abdicate on Koninginnedag this year after she turns 75 later this week, will mean that her son Willem-Alexander will become the first King to rule the Netherlands for 123 years.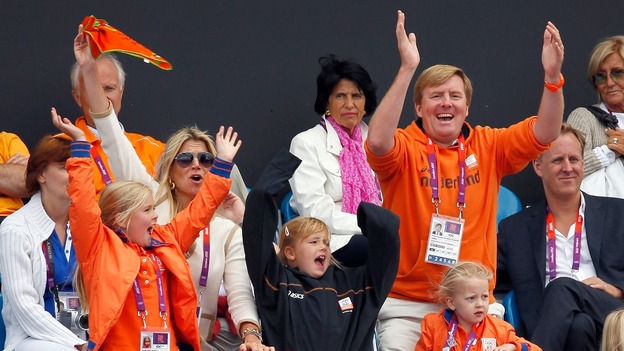 Future King and the Queen thereafter? of Netherland
So who is the man who will probably reign as William IV?
He was born on 27 April 1967, so will become King mere days after he turns 45. He has an interest in water management issues being a patron on the Global Water Partnership, set up by the World Bank, UN and Swedish Government, as well as Chairperson of the United Nations Secretary General's Advisory Board on Water and Sanitation.
He served as Patron of the Dutch Olympic Committee until he became a member of the IOC. But he has already expressed support for celebrating the centenary of the
Amsterdam Olympics
by backing a bid to bring the Games back in 2028. But he has actually taken part in both the New York marathon and the Frisian Eleven Cities Ice Skating Marathon the
Elfstedentocht
in his native land.
As can be seen in the picture he along with his wife and three daughters were enjoying the Olympics here in London last summer. So the Dutch people may only have a short time of having a King as a Queen may well be coming along in years to come.